Security Support Systems
Harland Clarke's commitment to security extends enterprisewide and is evident in all lines of business. Our intention and our vision are backed by action — the substantial investment in time, effort and financial resources that it takes to provide security for our financial institution clients and their account holders. Some of the ways we demonstrate that commitment are found in our security support systems within:
---
Payment Solutions
Detection Tools
Using the latest automated detection technologies from leading industry providers such as FIS, (formerly Fidelity National Information Services), your financial institution can consistently identify and validate information both at the new accounts desk and when changes are being made by current account holders.

FIS solutions include:
QualiFile

®

:

Combine unique data, powerful analytics and a flexible rules engine to automate the account decisioning and cross-sell process. QualiFile offers a score-based risk assessment service that quickly determines if applicants are the right candidates for your financial institution.
ID Verification:

Verify the identity of any person or business seeking to open an account. Cross-reference more than 23 billion public and proprietary records, screen against government watch lists, and retain records of identity information and the methods used to verify that information.
OFAC Watch:

Immediately and efficiently comply with Office of Foreign Assets Control regulations with a comprehensive, easy-to-use and cost-effective tool. Cross-reference your account holder database against the OFAC list and other government watch lists.
Click here
to learn more about FIS.
Consumer Identity Protection Solution
Harland Clarke's comprehensive consumer identity protection solution helps protect your account holders against identity theft and provide them with peace of mind. By offering this top-rated consumer identity protection solution, your financial institution can boost account holder confidence, strengthen account holder relationships, increase retention, reduce costs and generate additional revenue.
Click here to learn more about our consumer identity protection solution.
Check Security Features

On-Check Security Features (PDF)
Harland Clarke's Enhanced Security Level —
The Highest Standard of Check Security Available
After extensive analysis of current check fraud problems and trends, Harland Clarke introduced the Enhanced Security Level (ESL) standard. ESL is our highest standard level of check security available and exceeds the current industry standard adopted by Check Payment Systems several years ago. Best-in-class features of ESL include:
Security Weave
®
:
This background design greatly improves the current security screen's level of protection against photocopying. Additionally, ESL includes an updated warning box (in an obvious position on the back) with instructions. The message warns criminals and alerts authenticators to the existence of added security features on the check.
imageSafe
®
:
imageSafe is a personal check design that incorporates all standard features and also includes fugitive ink on the front and back of the check. In addition, the front of this basic blue check includes a warning message box at the top edge:
Look for: Blue border on the front and imageSafe logo in light
gray tones on the back. If not present - Do Not Cash.
As noted in the warning message box, the back of the check has a repeating imageSafe logo.
En Garde
®
Security Features: This business check integrates all the features of ESL along with additional security features such as fibers that become fluorescent in UV light, colored fibers, an embedded watermark, and a unique 3-D security pattern. En Garde is available in our popular Three-to-a-Page and Computer Check series of products.
ESL utilizes a process patented by Harland Clarke that combines fugitive ink to combat chemical alteration and anti-counterfeiting designs to deter copying, scanning and duplication. This new layer of protection makes counterfeiting and alteration more difficult. It also provides greater deterrent value to our checks and, therefore, more security against check fraud.
ESL-added features include fugitive ink on the back of the check that prevents chemical alteration of a specific area on the front. Attempts to chemically alter this area will cause discoloration while severely distorting or erasing the same area on the back of the check.
---
Marketing Services
Secure Marketing and Contact Center Services
As a security partner already entrusted with your account holders' non-public information, Harland Clarke is the natural choice for conveying marketing messages on your behalf and communicating with your account holders via phone and mail. By partnering with us for these services, you can reduce the number of companies with which you share your account holders' data, thereby reducing your risk. Our direct mail and call center personnel undergo the same extensive background screening as our other employees. In addition, our representatives are specially trained to speak with confidence about financial services issues, identify fraudulent activity, and professionally address your account holders' security concerns.
Our capabilities include:
Outbound phone and credit card activation and deactivation support as well as overflow-call assistance in the event of an unplanned volume surge
Direct mail operations that can provide personalized documents and inform your account holders about your privacy policy, a new product or a security incident
Marketing Services Direct Mail Certification
Harland Clarke's industry-standard security extends to all aspects of our contact with your account holders. Our Marketing Services production facility is one of the few in the industry that has successfully met the stringent security requirements for Payment Card Industry (PCI) compliance. The facility is currently undergoing PCI recertification review.
Click here
to learn more about
Harland Clarke Marketing Services.
---
Educational Services
Security Training
Training your personnel can play a key role in making your account holders more secure. A staff trained in security is not only more likely to be able to identify fraud, but is also better able to speak knowledgeably on the subject with your account holders. That's why we offer an Identity Theft Awareness Course free-of-charge to financial institution employees.
It's one of many online courses pertaining to security that we offer as part of our online University program.
Complimentary Identity Theft Awareness Course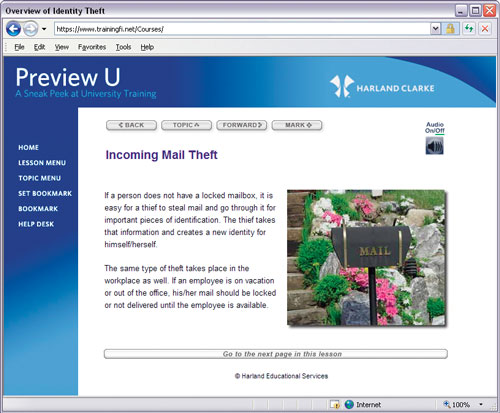 Make our complimentary Identity Theft Awareness Course a key part of your security program. Not only is it self-directed and multimedia-based, but it also employs audio, video, animation, interactivity, and proven adult-learning techniques that can promote greater retention of course information by your employees. The course discusses ways to identify and prevent theft before it can hurt your account holders. In addition, it identifies the common methods criminals use to obtain personal information, such as mail theft, "dumpster diving," and "pharming," along with ways to address these risks.
Click here to learn more about Harland Clarke's Educational Services.
Click here to sign up for a Free Identity Theft Awareness Course.
Click here to return to the Security & Fraud Services overview page.