Checks are an important payment method for millions of account holders who are writing billions of checks each year. Check programs will continue to play an important role for you and thus remain a core competency within Harland Clarke Payment Solutions. We offer an unparalleled suite of products and services to deliver consumer and business check programs that support your strategic goals.

Non-Cash Transactions in Billions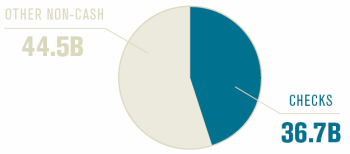 Your customers and members are each unique with a wide variety of affinities. Our personal check designs have something for everyone, whether for the "utility" check user who just wants safety blue or the person who wants to escape to the beach or mountains every time they write a check.