Gather customer and employee behavioral and opinion data regarding your organization, products and services to obtain an in-depth understanding of your target audience and prioritize your resources.
Scantron Survey Services, a member of the Harland Clarke Holdings Corporation, provides full-service survey, compliance and data management solutions to the financial services industry.
Our experienced research professionals take each client's project from inception to completion, providing data and insights that support more informed business decisions. Our solutions provide clients the business intelligence that can help them:

Obtain an in-depth understanding of target audiences and prioritizing resources
Increase satisfaction, loyalty and advocacy among their customers and employees
Identify new revenue and growth opportunities

Attract and grow new customer relationships
Turn marginally profitable customers into highly profitable ones
Make intelligent business decisions that lead to bottom-line profitability
Why Scantron?
Scantron Survey Services experts work together with our clients to provide insights that lead to increasing satisfaction, loyalty and advocacy. Continued improvements in these areas directly impact their bottom-line performance.

We guide our clients in enhancing their account holder relationships and achieving their data management objectives by:
Providing customized surveys, data collection forms and services
Utilizing existing account holder or employee database information to provide additional segmentation of survey data
Combining administration methodologies (paper, web, phone, or hybrid) to reduce costs and increase response rates
Providing detailed data reporting including key driver analysis, benchmark normative data and trend analysis
Access to our team of loyalty and engagement experts
Offering additional consulting services to develop action plans that lead to positive business results
Providing a dedicated, professional project management team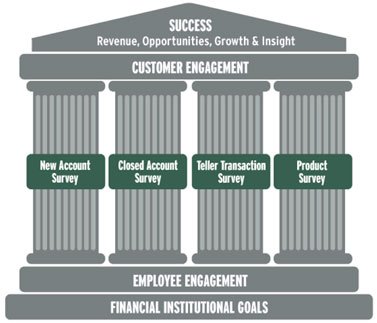 Managing the Customer Experience
AllianceLink™ Financial by Scantron Survey Services is a comprehensive multichannel customer and employee engagement survey solution that was created specifically for banks and credit unions. It identifies the key drivers of account holder and employee satisfaction, engagement and loyalty, then assesses how those drivers relate to advocacy at all touch points in a financial institution. The goal of AllianceLink Financial is to move account holders from being satisfied to being advocates for the financial institution.

Click here to learn more about AllianceLink Financial or contact us at 866-622-2600 for more information.