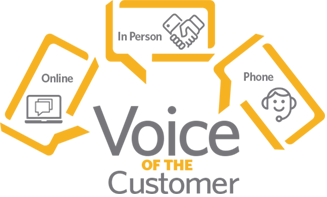 Drive Improved Performance with Account Holder Insight
To be a customer-centric organization, you need to have the pulse of your account holders. How do they really feel about you? Are they satisfied with your service? Would they recommend you to their friends? Are there blind spots you're not even aware of that could be costing you business?
Harland Clarke's Voice of the Customer, powered by CSP, delivers actionable intelligence to improve performance, directly from the source that matters most – your account holders. Using a variety of survey methodologies, we provide insight necessary to engage account holders and build a consistent customer experience.
Voice of the Customer gathers, measures and interprets feedback from every touchpoint: branch, web, and call center. And every experience: New Account Opening, Lending, Business Banking, and Daily/Regular Interactions.
With real-time feedback and analytics, you can quickly and easily see how your institution is performing in key areas such as:
Net Promoter Score℠ (NPS®)
Overall experience
Loyalty
Employee performance