Transactional Documents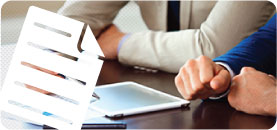 Make the Most of Vital Account Holder Touch Points
Transactional documents like statements and loan coupon books are mission critical to your institution. First and foremost, they are essential records detailing account holder account activity, with accuracy and clarity of utmost importance. But they're also natural marketing vehicles. In fact, they're often your institution's most frequent outreach to account holders.

Harland Clarke can not only help you enhance your vital transactional documents, we can help you leverage your transactional communications to maximize marketing and sales opportunities. Count on us to improve the process, reduce costs and increase the overall value of these important documents.