Notifications & Disclosures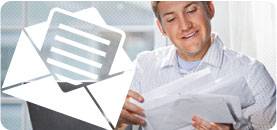 Disseminate Compliance Information Efficiently
Regulatory compliance is not only complex, it's time consuming. Harland Clarke can save you time and effort by helping you efficiently manage your regulatory notice and disclosure requirements.

Our print options include a variety of formats, from sheets to booklets, which we can customize, print, mail to account holders, ship to branches, insert into welcome kits — you name it. For ongoing branch and corporate needs, we make reordering simple and can ship precise quantities directly to each branch as needed.

Our Contact Center can also support your compliance efforts with outbound or inbound calling programs.

Communicate clearly and concisely with new account holders to build trust in your institution

Interact with account holders and prospects — inbound and outbound — cost-effectively