Changes in technology, consumer behavior and government regulation have led financial institutions to rethink the role, account holder experience and economics of checks
The Myth of Paperless Payments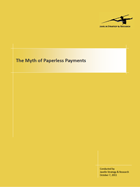 It is a common misconception that paper checks have become outdated and are no longer in wide use. Instead, as consumers and businesses grow through their lifecycles, there is a well-documented and continuing need for checks. Awareness of the current trends in check usage and the changes in cost structures, as well as the drivers and barriers to check adoption, will help financial institutions evaluate the significance of the check as a critical component of the demand deposit account.
Download the complete white paper
The Future of Check Handling: Creating a Better Experience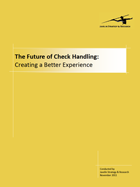 Checks have evolved from the dominant non cash payment mechanism in the U.S. to representing less than one quarter of noncash payments. Yet, despite a significant decline in check volume, transaction analysis shows that both businesses and consumers continue to actively use and place value on checks. As innovation has dramatically changed the functions of check acceptance, deposit, processing, and check clearing and settlement, the value proposition and economics of checks have been redefined.
Download the complete white paper
Facing Durbin: Enhancing DDA Value With Check-Based Solutions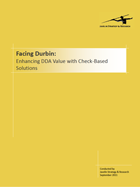 The federally mandated guidelines of the Durbin Amendment, the Credit Card Accountability, Responsibility, and Disclosure (CARD) Act, and updates to Regulation E (Reg E) have altered — and will continue to alter — the economics, value propositions, and incentives associated with DDAs, causing financial institutions to reevaluate DDA products and positioning. As they do so, they should consider the role of the check within a comprehensive assessment of DDA profitability.
Download the complete white paper