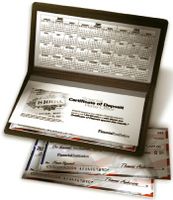 Combines business intelligence with the checkbook medium to provide financial institutions with a unique marketing strategy that effectively reaches their account holders and improves marketing performance
Leverages digital print technology to create intelligence-driven, targeted marketing messages within the checkbook
Harland Clarke has built upon the foundation of paper payments by combining business intelligence with the checkbook. The result is a revolutionary marketing vehicle that gives you a unique opportunity to reach account holders and improve marketing performance.


Targeted Messaging
Harland Clarke's digital print technology gives you the ability to insert one-to-one marketing messages for your products and services into checkbooks. This is just one example of integrating business intelligence to create effective targeted marketing campaigns. You can use targeted messaging to improve cross-sell and up-sell results of your products and services while strengthening account holder relationships.