Business Checks
& DATA SECURITY
Industry-Leading Security
You Can Count On
There's no question that businesses face challenges with check fraud. Criminals have become sophisticated in counterfeiting and are relentless in their attempts to steal personally identifiable information (PII). But Harland Clarke is ready. Our business check security methodology includes comprehensive deterrents to check fraud:
Experienced check specialists who are extensively trained on how to identify suspicious behavior and attempted fraud during the phone ordering process
Recorded order and inquiry calls, plus phone number screening, which blocks calls from pay phones and prisons
Tamper-evident packaging, with no package forwarding or redirection permitted
20+ elevated security features on business check stock, including water fugitive ink and a patented security weave which cannot be duplicated
We also investigate any business check order involved in a mail fraud scheme, delivery error or other incident, and leverage our learnings to identify questionable check orders that may potentially be fraudulent.

In addition, our industry-leading corporate security protects financial institution and account holder information using not only physical security measures, but also ongoing industry audits, testing and compliance certifications.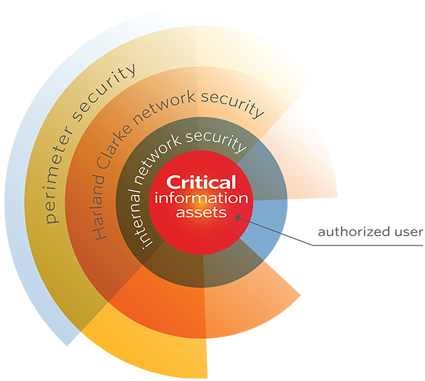 Data Security
Is Our Priority
Proven, risk-based program
Defense in depth strategy
Layered security model
Harland Clarke meets or exceeds information security requirements and standards set forth in regulations, such as:
Gramm-Leach-Bliley Act (GLBA)
Fair and Accurate Credit Transaction Act (FACTA)
USA PATRIOT Act
Electronic Communications Privacy Act (ECPA)
Financial and emotional distress from fraud can be overwhelming for account holders and result in a loss of trust in your financial institution. Working with Harland Clarke, you and your account holders can feel confident knowing that data security is our top priority.
Harland Clarke will help you grow your business.
Learn More