When it comes to checks, forms and accessories, the needs of business account holders can be as complex and varied as their businesses. Harland Clarke Business Solutions provides a convenient, easy and secure way for financial institutions to supply business account holders with the checks and related products that meet their needs.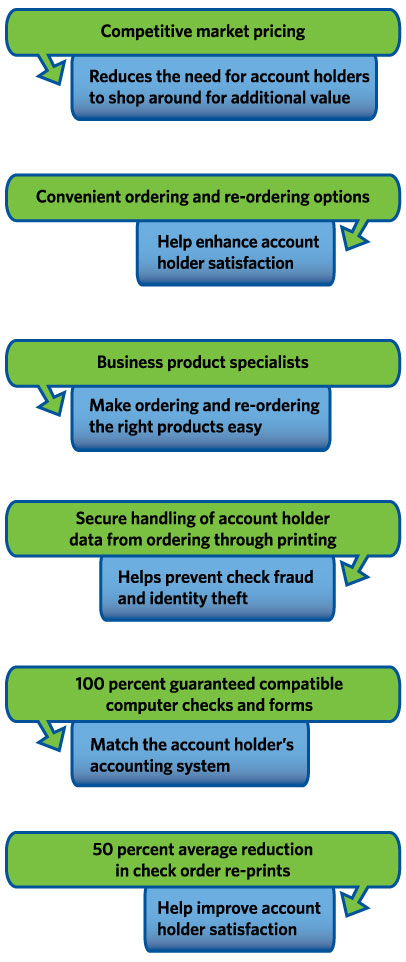 The Business Solutions check program also helps enhance branch efficiency. At new account opening, branch personnel simply place a call to a trained Business Solutions product specialist who will ask the right questions to help business account holders get the right business checks and related products that meet their needs. The result: more time for branch personnel to service account holders and increased account holder satisfaction.
Harland Clarke Business Solutions provides the tools to help financial institutions capture business check orders, including:
• Complimentary sales collateral for branch personnel to engage business account holders
• Memo and e-mail templates to help decision makers communicate the value of the program
to branch employees
• An on-demand
branch training website
that offers video, documents relating to the program,
PDF catalogs and step-by-step instructions to help branch personnel use the Business
Solutions program to their distinct advantage
Want to learn more about the benefits of the Business Solutions check program? Financial institutions can contact their Harland Clarke account executive.
Business Solutions Retention Program
Once business check orders have been captured, retention efforts can help enhance account holder loyalty. Harland Clarke has found that if account holders place a second check order through their financial institution, the retention rate increases significantly for subsequent orders.
Harland Clarke's Business Solutions retention program helps increase account holder loyalty by:
• Sending targeted, one-to-one messages at predicted re-order points in the check life cycle
• Increasing the convenience of re-ordering by providing the right product at the relevant time
• Offering cross-sell opportunities that encourage additional purchases and help business
account holders get more of what they need
For more information about implementing this program at your financial institution, contact your Harland Clarke account executive or
contact us
.