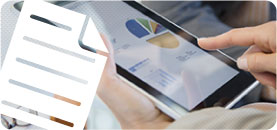 Secure electronic billing and payments for your business account holders
There's no doubt about it. Electronic bills and payments are the way of the future. Nearly 66% of customers already pay bills online1, and your business account holders need a secure solution from a source they trust.
Transactis™ BillerIQ™ is a secure, "off-the-shelf" electronic bill presentment and payment solution that meets the strictest requirements of the payment industry. It is easy to use — with no additional programming requirements — and affordable with nominal monthly fees and low, transaction-based pricing. BillerIQ provides business account holders with an easy, direct way to:
Distribute electronic bills and invoices
Accept payments online, by phone or via a mobile device
Improve cash flow and reduce payment collection cycle time
Save on print, postage and mailing costs
Improve customer satisfaction and reduce churn
Substantial benefits for your financial institution
Five of the top 20 U.S. financial institutions and many retail and wholesale businesses use BillerIQ — a proven, fully hosted solution suitable for all industries. It is scalable, and works for as few as 50 bills a month up to the higher volumes of Fortune 50 companies. BillerIQ is customizable, offering extensive business-controlled payment and branding options.
Seize this enormous market opportunity — electronic payments made via direct debit, credit card and debit card are expected to grow 67% in 2015 2. BillerIQ offers the opportunity to:
Increase non-interest revenue
Augment bank services for deeper account holder relationships
Capture all revenue streams as the integrated receivables provider for your business account holders
Distinguish your bank from the competition
Become the receivables provider for your business account holders with Transactis BillerIQ.