Education & Training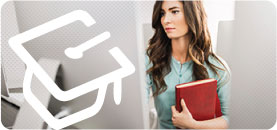 Facilitate More Informed Staff and Account Holders with Comprehensive Training
If you want customer service that sets your institution apart, exceptional education and training is a must. Informed staffers improve the account holder experience by providing relevant and timely information. In turn, informed consumers have the essential financial and fraud prevention tips they need to make wise decisions and protect their assets.

But how can you provide the instruction your staff and account holders need? Turn to Harland Clarke.

Our comprehensive education and training options, designed by in-house curriculum specialists and subject matter experts, are engaging, effective and affordable for financial institutions of all sizes.

Prepare branch personnel to successfully manage small business checking needs