Background

Financial institution marketers have a variety of channels at their disposal to reach small-business owners and move them from awareness to conversion during the purchasing process. However, the sheer number of options can make it challenging to determine which channels are most effective for creating demand within the small-business market. An explosion of digital channels, including social media, mobile and web, has been thrown into the mix with traditional channels, such as television, print publications, radio and direct marketing — and all are vying for business owners' attention (see Figure 1).
Figure 1: Evolution of Marketing Channels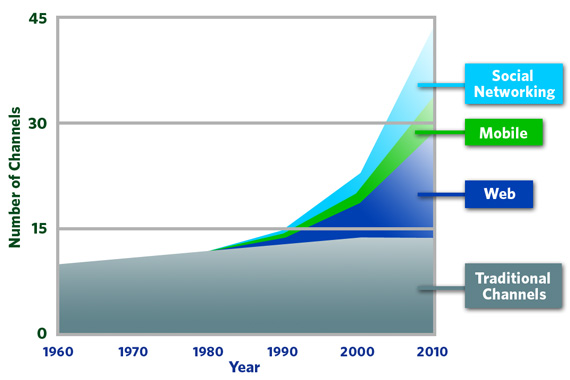 Source: Enterprise Council on Small Business
According to research conducted by the Enterprise Council on Small Business and detailed in the recent webinar, "Demand Generation: Effective Marketing Channels, From Awareness to Conversion," small-business owners can recall only four media channels during a purchasing process. Information from additional channels simply goes unnoticed, making a targeted, tactical approach to channel marketing essential.
Opportunity

Enterprise Council on Small Business indicates that the buying decision-making process small-business owners engage in is changing. Historically, the purchasing process was similar to a funnel. Business owners would start with brands they were already aware of — often through previous experience with the brand, word of mouth or expensive forms of awareness creation such as television — and whittle them down to a final choice through the research, consideration and decision phases. However, 60 percent of small-business owners now report expanding their consideration set through research (see Figure 2).
Figure 2: Small-business Owner Purchase Process
Source: Enterprise Council on Small Business
In fact, nearly half of small-business owners who conduct research actively seek additional brands to include in their consideration set. Another 20 percent of owners discover more brands during the research phase without intentionally looking for them.
With this shift in the purchase process paradigm, lesser known brands have a significant opportunity to enter the consideration set during the research phase — so optimizing this stage is critical. But the additional competition also increases the risk for large incumbent brands that must enhance their efforts during the awareness and research phases to ensure their market position. Both scenarios drive the need for action, as does the accelerating rate at which small-business owners are making buying decisions.
Recommendations

To optimize channel marketing strategies with small businesses, we recommend that financial institutions do the following:
Develop a fully integrated marketing strategy.

By utilizing channels in a consistent manner based on the business owner's buying process, financial institutions can combine traditional and digital channels for maximum effectiveness. For example, social media can be used during the research phase to share information about an organization's community involvement, add a customer service channel, and monitor and respond to consumer feedback. Actionable channels such as email and direct mail help promote a brand during the awareness phase and also help solidify the purchase during the decision phase. In addition, the messages communicated in each channel should maintain a consistent brand image and speak directly to business owners.



Think locally, act electronically.

The majority of small-business owners (72 percent) use internet search engines in their research process, and more than half (56 percent) begin their research using a search engine. When they search, nearly twice as many owners use generic product terms rather than specific brand names (e.g., "internet" vs. "Verizon"). In addition, business owners tend to think locally, so including cost-effective geographic region keywords in search engine optimization efforts can help increase brand awareness and presence — and win business — at the local level.



Use microsites to target small businesses.

Small-business owners can potentially get lost in a sea of multiline product and service offerings on a financial institution's primary website. Microsites, which are designed to be easily accessible from an institution's main site, maintain brand consistency and provide an informative, targeted message to small-business owners during the awareness and research phases. These sites are most effective when they catch the attention of business owners, challenge their thinking and offer a deal.



Prepare the front line.

During the purchasing process, 30 percent of small-business owners contact a prospective vendor to verify their research. A financial institution's front-line associates, whether in the branch or at a contact center, should be prepared to utilize that contact opportunity to discuss the small business's needs, and to move the business owner from research to purchase. A well-trained front-line team can make a significant difference in terms of obtaining the sale.



Highlight accolades.

Awards, certifications and other recognition do matter; they help increase credibility and show that a financial institution is strong and focused on its account holders. Financial institutions should mention accolades they have received on their websites. For optimal effectiveness, mention of awards, special ratings and certifications should be placed in a prominent, high-traffic area on an institution's website.



Make ordering and implementation easy.

Small-business owners do not conduct exhaustive research during the buying process; they have a checklist with certain criteria, and when those items are satisfied they stop researching through various channels and make a purchasing decision. At that point, they are looking for ease in opening an account or applying for a lending product.
The buying habits of small-business owners have changed. To create demand within this growing market, financial institutions' channel marketing strategies must be fully integrated and optimized for critical stages of the purchasing process.
To learn more about how Harland Clarke can help optimize your financial institution's channel marketing strategy, contact your account executive or visit
harlandclarke.com/contactus
.