Mystery Shop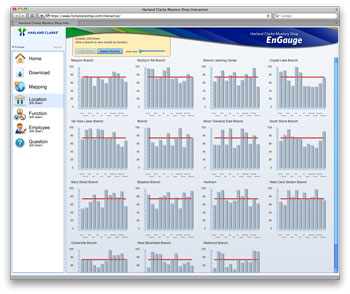 Take the Mystery Out of the Customer Experience
Are you delivering a consistent brand and service experience in branch, online and on the phone? WithHarland Clarke Mystery Shopping services, you can find out with "like you were there" snapshots.

With customized scenarios, professional shoppers and detailed reporting we give you timely insight into what your branch staff and frontline employees are doing well and where there are opportunities for improvement. Our Web Shops evaluate the user experience on your website, focusing on content, functionality, response time, tone and accuracy.

EnGauge, our online reporting tool, lets you quickly access in-depth shop reports for near real-time monitoring. You can also measure interactions between employees and Harland Clarke shoppers, gather account holder insights and identify areas for performance feedback and coaching.

If you want to see how your institution compares to competitors, our Specialty Shops offer more granular views into specific areas of your business.