Strategic Marketing Approach
Marketing Designed to Achieve Optimum ROI
Marketing strategy is all about connecting insight to action. Fueled by research, data and analytics, Harland Clarke designs multichannel campaigns to reach the right account holders and prospects with clear and compelling messages when they will be most receptive. Our goal is to deliver optimum returns on your marketing investment.
Achieve Primary Financial Institution Status with Account Holders
Our goal is to maximize value at every phase of the account holder lifecycle to help you gain Primary Financial Institution Status. That's why Lifecycle Marketing is at the heart of everything we do. More about Lifecycle Marketing
Take a Strategic Marketing Approach
We immerse ourselves in understanding your account holder portfolio, business objectives, opportunities and challenges. We then design marketing programs to drive profitability and engagement at every stage of the account holder lifecycle.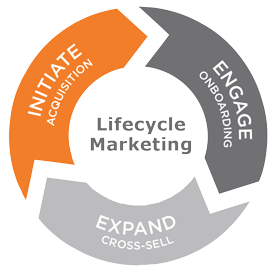 With expertise in multiple channels, we can reach account holders and prospects where they are.