Portfolio Index
•
Previous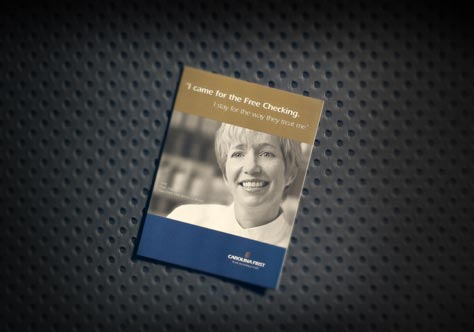 The South
Financial Group

Free Checking
The Challenge:
How does a low-key community business bank like The South Financial Group attract consumer deposits in large numbers?
The Creative Strategy:
The South Financial Group clearly puts the focus on customers and customer service. This mail piece indicates that Free Checking is a nice product, but the reason you stay with the bank is "because of the way we treat you."
Soft duo-tones and photography of real employees and real customers make this communication feel like a commitment instead of an advertisement. The product features are clearly called out, but it's all couched carefully in the bank's pledge to serve its customers well. The tone is serious and sincere, not loud and boastful.
The Refer-a-Friend panel features a photograph of the offered premium and includes the address of the nearest branch location.