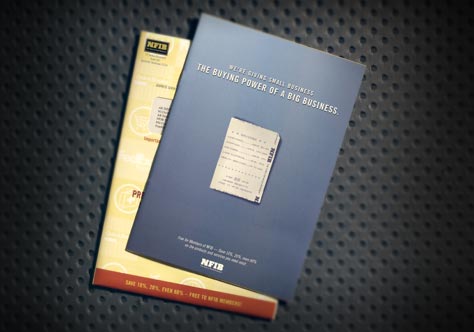 National Federation of Independent Business
"The Voice of Small Business"


Membership Sales Kit
The Challenge:
To stimulate membership in one of the most powerful small business lobbies in Washington.
The Creative Strategy:
When small business owners stand together, they benefit both individually and collectively. The more members in NFIB, the greater the clout in Washington. This package promoted a great package of discounts through NFIB Member Benefits.
The package leads with the savings message while positioning NFIB as your small business advocate. The envelope features logos of participating companies offering member discounts. The official membership card shows through the window, giving NFIB a powerful and credible presence. Inside, the catalog delivers a key message: "We're giving small business the buying power of a big business." A retail receipt makes the savings tangible.
Overall, the package positions NFIB membership as something a small business owner can be proud of – and a great way to get substantial savings on the things needed to run a business.