Portfolio Index
•
Previous
•
Next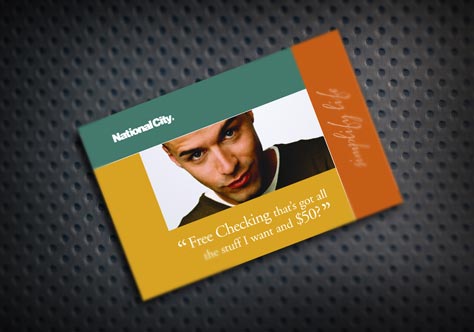 National City Bank


"Simplify"




Free Checking Consumer and Business
The Challenge:
In the Free Checking marketing frenzy, premiums rule. Or do they? National City was eager to craft an offer to differentiate their brand and their product.
The Creative Strategy:
When National City agreed to make a cash offer instead of a premium offer, the paradigm was shifted.
To promote this out-of-the-box offer, the teaser on the outside of the self-mailer focuses on the cash. Inside, the idea is paid off with a big "Wow!" and an oversized tipped-on card worth $50 when a Free Checking Account is opened. The convenience message is strong, supporting NCB's "Simplify" positioning with conveniently located branches and ATMs, online banking and easy CheckCard benefits.
This tangible take on a cash offer was very successful in drawing in new customers and deposits.