Portfolio Index
•
Previous
•
Next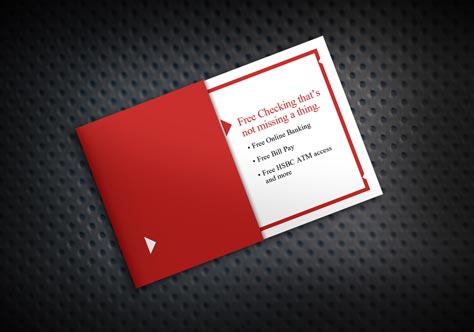 HSBC Bank


"Not Missing a Thing"




Free Checking Control



The Challenge:
Free Checking was everywhere. How could HSBC stem attrition and acquire new households and deposits in the face of fierce competition?
The Creative Strategy:
HSBC's Free Checking product was competitive and one of the first to include Free Bill Pay. The creative solution makes the most of this benefit and positions the product as "Not Missing a Thing." The package immediately supports this claim with a short list of key product features. The self-mailer uses an inviting short fold to encourage recipients to open it and learn more.
Inside, messaging centers around a key driver for Free Checking: convenience. Unusual for this category, the piece makes the product, rather than the premium, the hero. A perf-off certificate drives prospects into the nearest branch, and a strong Refer-a-Friend offer doubles the reward.
With results far above forecasted net new Free Checking balances and a super-low acquisition cost, this powerful package continues to pull in the deposits as HSBC's Free Checking Control.