Portfolio Index
•
Previous
•
Next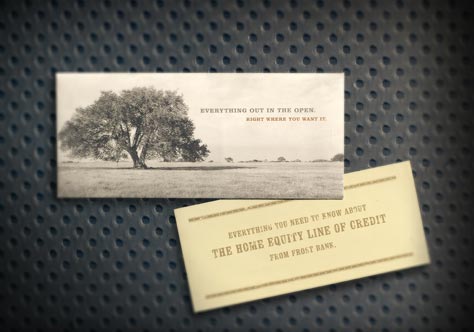 Frost Bank


"Out in the Open"




Home Equity Line of Credit



The Challenge:
Texans were familiar with Home Equity Loans, but Home Equity Lines of Credit were brand new to the Lone Star State. How do we get this market comfortable with this new product and drive them to choose Frost?
The Creative Strategy:
The creative team took its cues from the values of the Frost brand to overcome wariness about this new and fairly complicated credit product. The #10 envelope stands out thanks to rich black-and-white photography of a lone, sturdy oak out in the open on a Texas plain. Nothing hidden. No surprises. Just like the Line of Credit you can get from Frost Bank.
Inside, copy emphasizes the flexibility of the product, and a weathered, khaki-colored mini-brochure tells you, "Everything you need to know about The Home Equity Line of Credit from Frost Bank." This isn't flashy salesmanship. This is helpful, educational information. This is Frost putting all its cards on the table for you to see.
Customers could clearly see the difference – and the advantages – of the Line of Credit as compared with a Loan. With more understanding comes less fear. And more Lines of Credit booked.