10 Key Elements for an Effective Onboarding Strategy
To request a complete copy of Harland Clarke Markerting Services' white paper, "10 Key Elements for an Effective Onboarding Strategy,"
click here
.
Synopsis
An effective onboarding strategy is crucial to building a positive experience with new account holders from the very start to pave the way to a long-lasting, mutually beneficial relationship.
From account opening through the first year, financial institutions face a make-it-or-break-it window of opportunity. Research shows that new account holders are most likely to purchase additional products and services within the first 90 days. Paradoxically, they are also the most likely to leave a financial institution.
Attrition during the first year ranges from approximately
35 percent to 45 percent — twice the rate of
attrition among established account holders.

Source: Harland Clarke National Relationship Database
Average Household Revenue by Product Enrollment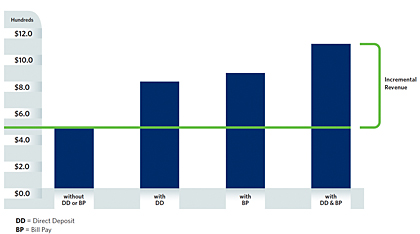 Source: Novantas analysis and Harland Clarke client case study
The most successful onboarding programs integrate the following strategies:
Acquire the "right" account holder.
Provide relevant communication, early and often.
Use the right message with the right channel at the right time.
Know your customer or member.
Make the most of "sticky" products and services.
Provide meaningful solutions to your account holders.
Divide and conquer.
Make onboarding a process, not a program.
Measure results and adjust accordingly.
Provide a single point of responsibility.
Maintaining a positive experience is key to account holder retention. Successful onboarding is an ongoing process that stimulates growth and transitions new account holders into satisfied, profitable and loyal account holders.