Maximize New Account Holder Engagement. Reduce Attrition.
Attrition among new account holders ranges from 25 to 35 percent in the first year.1 Harland Clarke's Community Onboarding solution is an automated, affordable solution that helps small and midsize financial institutions stem this loss.
Community Onboarding features affordable pricing, personalized communications and targeted cross-sell coupons for "next-most-likely" product purchases. It is a highly cost-effective way for your institution to:
Reduce attrition - Implementing an onboarding program lowers attrition levels by about one-third2
Grow wallet share - About 75 percent of cross-sales take place in the first 90 days after account opening3
Build relationships - Onboarding helps to get account holders more engaged and increases loyalty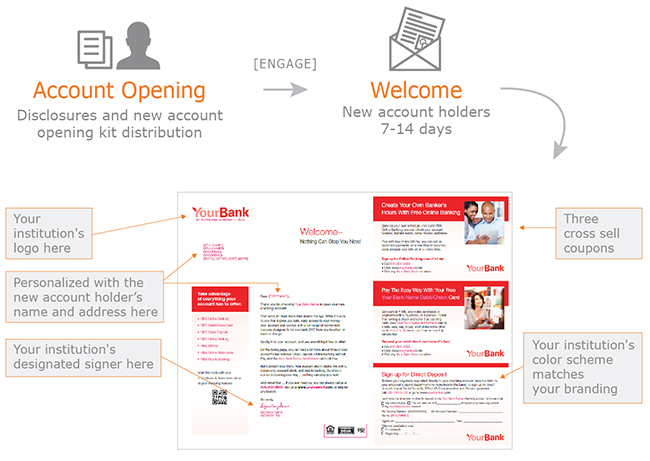 How Does Community Onboarding Work?
Harland Clarke's Community Onboarding solution is designed specifically to address the onboarding needs of small and midsize financial institutions. The program includes:
Personalized Welcome Letter — Within seven to 14 days of account opening, your new account holders are automatically sent a personalized welcome letter branded with your institution's logo and color palette, and signed by your financial institution's designee.
Cross-Sell Coupons — The welcome letter includes coupons for the three "next-most-likely" products and services your new account holder will need: direct deposit, online bill pay and debit card.
Value Pricing — No set-up costs! Our tiered, volume-based pricing structure is affordable for small and midsize institutions.