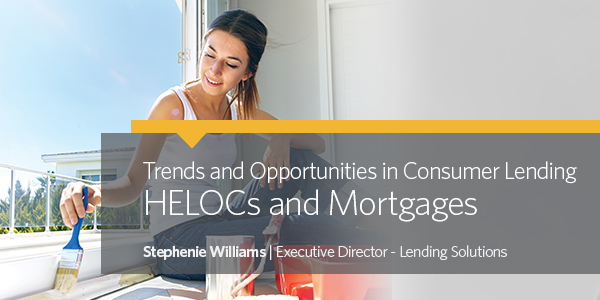 Lending today is complex. Noise, clutter, and contradictions have created an often confusing environment, leaving financial institution decision-makers scratching their heads.

On the one hand, consumer spending is helping to spur an already strong economy. On the other hand, this spending is outpacing GDP and leading to record levels of consumer debt, causing some experts to sound the alarm bells.

Borrowers are out in the market, hungry for credit. This brings more competition — and more opportunity — for financial institutions to grow loan balances. At the same time, consumers may be reaching their limits. They're dealing with the pain of having to manage monthly cash flow and keep up with their repayment responsibilities.

How can financial institutions respond?

In this article, Stephenie Williams, Executive Director of Lending Solutions, provides clarity and actionable insight into today's lending environment as well as a deeper look into two areas of opportunity: HELOCs and mortgages.
Complete the form to download the article.