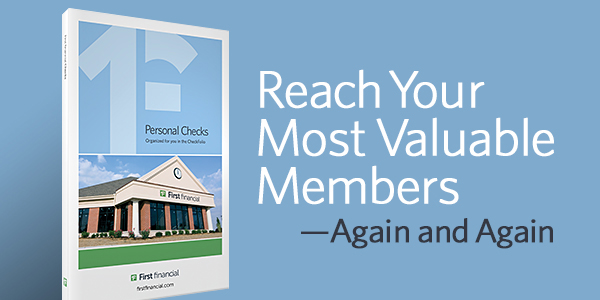 Custom CheckFolio turns an innovative check package design into a new and powerful marketing tool. With an exterior that can be fully branded with your financial institution's colors, design and messaging, Custom CheckFolio helps improve brand recognition, creates awareness of your products and services, and ensures that you stand apart from the competition.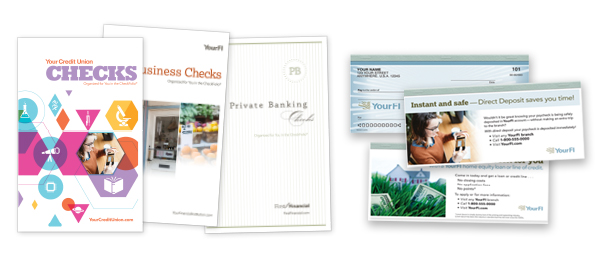 Custom Checks
Showcase your institution's unique brand with the full-color design of your choice.

Custom Messaging
Reach valuable account holders with long-lasting, high-impact, and cost-effective checkpad messages.

Engage account holders. Reach your most valuable account holders — check writers — with your financial institution's unique brand, as well as product and service messaging.

Enhance awareness. Deliver multiple branded impressions over the lifetime of the check order.
Make a statement. Promote your brand and distinguish your institution with a custom message on both the front and the back of CheckFolio.



Combine Custom CheckFolio with our other custom options — Custom Checks and Custom Checkpad Messaging — to create a fully-branded, integrated marketing vehicle that your account holders will see and access over and over again. What other marketing channel can deliver a reach of nearly 100%?

Organized
All components are packaged together neatly, ready to place in a drawer, in a filing cabinet or on a bookshelf for easy storage and access.

Discreet
CheckFolio arrives in a discreet package, plus its unique design makes for inconspicuous and flexible storage options — helping protect the contents and the account holder's identity.

Eco-Friendly
The compact and efficient design uses less material and creates less waste.
© 2018 Harland Clarke Corp. All rights reserved. CheckFolio is a registered trademark of Harland Clarke Corp. Patent No. D777, 835