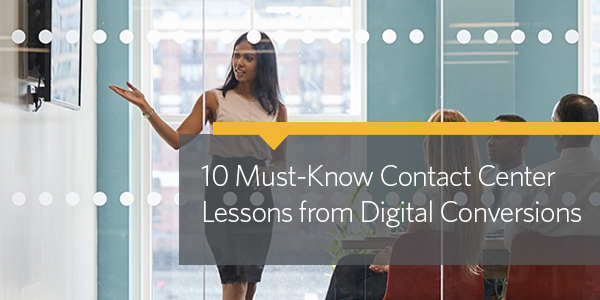 Change is often necessary, but it's rarely easy. For financial institutions, online and mobile banking conversions are typically motivated by a drive toward improving customer self-service channels. Somewhat ironically, however, conversions also typically trigger a significant short-term increase in the inbound and outbound call handling needs of an institution's contact center.
While a big, temporary spike in call volume may seem daunting, it's actually best viewed as quite the opposite. If managed effectively, these events can truly become valuable opportunities to widen customer reach, increase overall customer engagement, and strengthen the loyalty among your existing account holders.

Often, account holder contact during a conversion occurs with the very customers or members with whom you seldom have the opportunity to interact — providing a unique opportunity to showcase your institution's service and key differentiators.

In this article, Ron Hasbrooke, a Business Development Executive for Harland Clarke Contact Center Solutions, details the 10 most important lessons he's learned from his vast experience helping financial institutions through their own digital conversions. These 10 "must do's" are items every financial institution with digital conversions on the horizon should follow in order to achieve success.
To be ready, and to fully benefit from the opportunity value of that touchpoint, it's important to follow the 10 lessons outlined in the paper, so you can be prepared with all the "do's" and "don'ts" necessary for the smoothest digital conversion.
Complete the form to get the article.