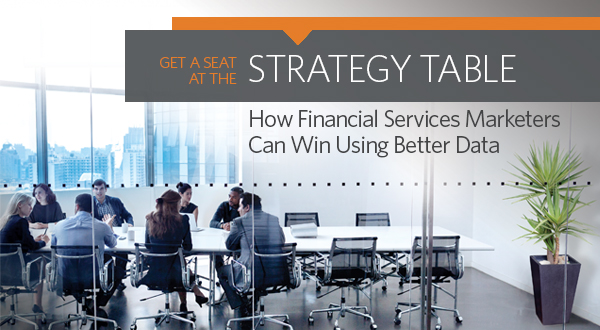 If you don't have data to drive your decisions, assess initiatives, and judge success, you're operating in the dark. It's hard to prove your true value as a marketer ‒ and get a seat at the strategy table with the C-level executives ‒ when you can't show them the numbers that validate your endeavors.

Read our white paper, "Get a Seat at the Strategy Table: How Financial Services Marketers Can Win Using Better Data," for insight into how using "better" data can help bridge the gap between what you already know and what you need to know, like:
Marketing forecasting — which marketing opportunities are you missing?
Statistical modeling — who's worth your time and money?
Lifecycle marketing — how can you attract and retain the right account holders?
Post-campaign measurement — what's working and what's not?