Harland Clarke Digital recognized for continued excellence in data collection, security and privacy best practices
SAN ANTONIO (June 16, 2015) — The Online Trust Alliance (OTA) has named Harland Clarke Digital to the 2015 Online Trust Honor Roll for the fourth straight year. The Online Trust Honor Roll recognizes excellence in data protection, privacy and security for websites and mobile applications. The OTA is a nonprofit organization that collaborates with industry leaders to enhance online trust and develops best practices and tools for businesses, helping provide a safe and secure user experience for their customers.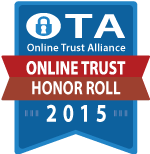 "It's an honor to be named to the OTA Online Trust Honor Roll for the fourth year in a row," said Mike Ferguson, Senior Vice President and General Manager of Harland Clarke Digital. "We continue to support OTA's efforts to encourage best practices and enhance online trust."
"As cybercrime escalates, it becomes increasingly important for businesses to place emphasis and value on security, privacy and consumer protection," said Craig Spiezle, Executive Director and CEO of OTA. "As the bar is raised every year to encompass new best practices, Harland Clarke Digital continues to excel, which is evident by its fourth straight appearance on the Honor Roll. We applaud its leadership and encourage others to follow its lead."
Started in 2005, the Online Trust Honor Roll recognizes leadership and commitment to best practices that aid in the protection of online trust and confidence in online services; enable businesses to enhance their security, data protection and privacy practices; move from compliance to stewardship, demonstrating support of meaningful self-regulation; and promote security and privacy as part of a company's brand promise and value proposition.
The Online Trust Honor Roll is the result of comprehensive audits, analyzing more than 900 leading domains and privacy policies, including: OTA members, Internet Retailer 500, FDIC 100 banks, social networking companies, government agencies, the top 50 news and media websites and leading Internet of Things providers. The composite analysis included more than a dozen attributes focused on brand protection, infrastructure security, privacy, site and app protection, along with a focus on the recently released draft of the Consumer Privacy Bill of Rights.
To learn more about Harland Clarke Digital, please visit www.hcdigital.com.
About The Online Trust Alliance (OTA)
The Online Trust Alliance (OTA) is a member-based, non-profit representing the global internet ecosystem — including the public and private sectors. OTA's mission is to develop and advocate best practices and public policy which mitigate emerging privacy and security threats while enhancing online trust, innovation and the vitality of the digital economy. OTA is committed to the protection of critical infrastructure, balanced legislation and data protection through the promotion of best practices, benchmark reporting, and self-regulation. For more information, visit: https://otalliance.org.
About Harland Clarke
Harland Clarke (www.harlandclarke.com) is a leading provider of best-in-class integrated payment solutions, marketing services, and retail products. It provides integrated solutions for financial institutions; investment firms; business-to-business clients; individual consumers; and small, medium and large businesses serving multiple industries. Harland Clarke's clients range in size from major financial institutions and corporate brands to small businesses and individual consumers. Harland Clarke provides products and services to nearly 15,000 financial and commercial clients. Harland Clarke Digital (www.hcdigital.com) is the digital arm of Harland Clarke Corp. Harland Clarke Digital is a team of experienced marketing and technology professionals that works with hundreds of organizations to execute effective lifecycle marketing programs through email/mobile campaigns, research and survey services, content generation, strategic consulting, employee training services and more.
###
Media Contact:
Debbie Serot
Senior Vice President, Corporate communications
Tel: 210-697-6239
Debbie.serot@harlandclarke.com