Download this case study
Share this with your connections: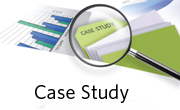 Background
A long-standing, well-known financial institution with approximately 24 branches sought efficient, innovative ways to attract new account holders.
Challenge
Historically, the bank achieved a response rate of approximately 1% on direct mail programs. However, that was at a high per mail piece cost. So, although the previous acquisition program achieved an acceptable rate of response, it was too costly
Solution
Valassis implemented a turnkey checking acquisition solution that extended highly personalized offers in an attractive self mailer at saturation pricing. With it, the bank executed a multiple-drop direct mail campaign designed to reach individual prospects and existing account holders in specific households with unique, actionable messaging. The highly targeted mailing list was derived from a combined database of 1,400 variables grouped into three categories — demographic, purchasing potential and lifestyle/behavioral — to show consumer potential interest in an offer.
The campaign consisted of three mailings, two of which included a unique checking offer that featured a free beach pass – popular in the coastal region. The third mailing was directed to targets who were likely to be interested in home equity, home mortgage/refinance (HARP) and checking offers.
More than 309,000 pieces were distributed over the three mailings.
Results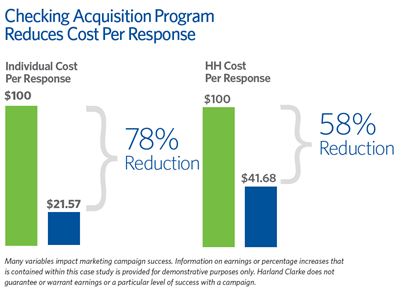 The campaign resulted in a response rate of slightly less than 1%, with both new and existing account holders purchasing services. But while the response rate was typical for financial services direct mail1, the cost reduction was not. For individually targeted mailings, the campaign proved to be four times more cost-effective than previous campaigns with a 78% reduction in cost per response. The bank also wanted a view of unique household responses (many households were targeted more than once during the three drops). In this analysis, 140,450 unique households contributed a 1.05% response rate, slightly higher than the bank's typical household campaign response rate. The cost per response was 58% less than the cost of previous campaigns of this type.
The bank was wowed by the checking acquisition campaign results. They were able to acquire new account holders and sell more services to existing account holders at a cost per response that was 78% less than previous campaigns.