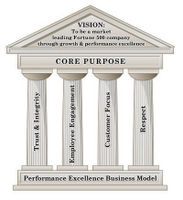 Vision
To be a market leading Fortune 500 company through growth and performance excellence.
Core Purpose
To be a trusted leader, providing valued products, services, and solutions.
Core Values
Trust & Integrity
Employee Engagement
Customer Focus
Respect
Behaviors aligned to Core Values — "We Will" Expectations
Trust & Integrity
We will act with integrity which means always doing the right thing legally, ethically and morally.
We will honor the spirit and intent of our commitments and promises, demonstrating consistency between our actions and our words.
Employee Engagement
We will contribute to a safe, secure and supportive work environment.
We will pursue challenging and rewarding work opportunities that nurture personal and professional initiative and growth.
We will genuinely listen, seek understanding and encourage open dialogue.
We will recognize and celebrate individual and team successes.
Customer Focus
We will listen to our customers and deliver ever-increasing value in the markets we serve.
We are responsible for both external and internal customer satisfaction.
We will focus on customer relationships that build trust, confidence, and loyalty.
Respect
We will treat others with dignity, valuing and benefiting from personal differences.
We will value other's time, skills, views, and contributions.
We will be accountable for the impact of our actions and behaviors on fellow employees, customers, shareholders, and the communities in which we operate.